This event was live on July 13th, 2016. We had a great day, many people attended this event, and thanks goes to the speakers who presented such excellent sessions. All those who registered will recieve access to the recordings and slides by next Tuesday. Q & A portions of the presentations will also be included there. If you missed the live event, but you would like access to the recordings/slides, please use the register button to the right to gain access.
This event was a full day of live webinar sessions presented by Industry Experts from 8:00 AM to 2:20 PM Pacific Time. Each session focused on education in the latest Smart Data topics including: Cognitive Computing, Machine Learning, Artificial Intelligence, and Natural Language Processing.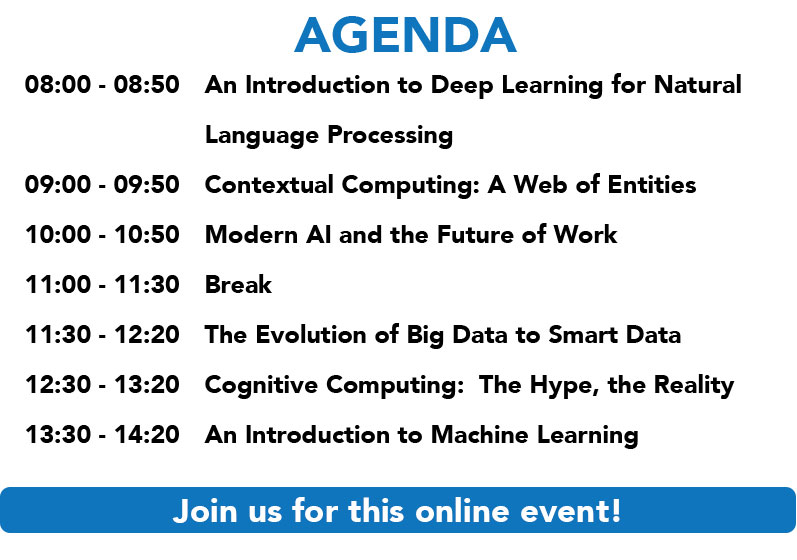 Speakers and Presentations
An Introduction to Deep Learning for Natural Language Processing

Presented by Charlie Vollmer

How does Google translate your voice into text, Facebook suggest that the man wearing a hat and sunglasses is your friend Mike, and IBM guess exactly what recipe you'd love to eat for dinner tonight? They all use Deep Learning for these tasks. This session will introduce attendees to the mechanics and concepts of these Neural Network models, describe their application in the world of Natural Language Processing, and present various use-cases of Deep Nets on text data, ranging from sentiment analysis and opinion mining. While de-mystifying Deep Learning, attendees will leave with sufficient knowledge and hands-on experience to begin developing Deep Learning models on their own data sets and problems.




About Charlie Vollmer
Minnesota boy at home in the mountains. When he is not teaching his 7 yr old how to ski powder, he is using mathematics to tell computers how to discover patterns in data. He believes anyone can do machine learning and that by sharing information on computer science, we are all better off. He thinks that if you only give him the chance, he can teach you any statistical concept, and that you'll walk away actually thinking positively about math.

Contextual Computing with Knowledge Graphs and the Web of Entities

Presented by Richard Wallis

Structured web data enables us to communicate to search engine algorithms the things that humans understand implicitly. Using Schema.org, over 12 million sites are already enabling their pages in this way, and as this onward drive continues, a new web is emerging: the Web of Entities. Knowledge Graphs use these entities to power new contextual applications and capabilities. By mapping the entity types identified in questions and queries, to instances of them in their knowledge graphs, we can create applications that provide seamless customer interactions and experiences. But where next? The exponentially growing Web of Entities has the potential to lead the way to Cognitive Computing, using pattern recognition to mimic the way the human brain works.




About Richard Wallis
Richard Wallis is a Technology Evangelist and Consultant at the forefront in promoting, explaining, and applying new and emerging Web and Semantic Web technologies. Richard is well known on the conference platform in the Semantic Web, Library, and Information Management sectors, and is a co-founding member of the W3C's FIBO and Tourism data community groups, Chair of the W3C Schema Bib Extend community group and he is Founder at Data Liberate.

Modern AI & the Future of Work

Presented by Adrian Bowles & Steve Ardire

Modern AI - from deep learning to advanced natural language processing and generation to gesture and emotion management - is poised to change the way people work and interact with businesses. In 2016 we see the growing acceptance of AI-powered applications for analytics, marketing & sales, customer service, human resources, market / risk intelligence and more applications where the user experience is also shaped by AI. As enterprises become "AI literate" the #FutureofWork will be reshaped to include Augmented Intelligence where machines will emerge as top collaborators. Software to replace or augment specific job functions will drive the human capital shift to higher-order, non-routine cognitive creative work.




About Adrian Bowles
Adrian is an industry analyst and recovering academic, providing research and advisory services for buyers, sellers, and investors in emerging technology markets. His coverage areas include cognitive computing, big data / analytics, the Internet of things, and cloud computing. Adrian co-authored Cognitive Computing and Big Data Analytics (Wiley, 2015) and is currently writing a book on the business and societal impact of these emerging technologies.




About Steve Ardire
Steve is a software startup advisor with artificial intelligence, machine intelligence, cognitive computing focus. Steve has worked with over 40 startups in the past 20 years, and he shapes serendipity by interrogating reality to connect and illuminate the dots that matter.

KEYNOTE: The Evolution of Big Data to Smart Data

Presented by James Kobielus

In this keynote, James Kobielus, IBM's Big Data evangelist, will discuss the challenges of ensuring that the necessary Smarts are built into Big Data to accelerate automated insight discovery, statistical exploration, and information refinement. He will describe the various approaches for making Unstructured Data and streaming media Smart so that these content types can be processed efficiently, are scalable, and are cost-effectively at growing volumes.




About James Kobielus
James is an industry veteran and serves as IBM's Big Data evangelist. He spearheads IBM's thought leadership activities in Big Data, Hadoop, Enterprise Data Warehousing, advanced Analytics, Business Intelligence, Data Management, and next best action technologies. He works with IBM's product management and marketing teams in Big Data.

Cognitive Computing: The Hype, the Reality

Presented by Susan Feldman and Hadley Reynolds

Cognitive computing is still evolving. There is plenty of hype surrounding it, but also some solid use cases that are making practitioners pay close attention to its potential, particularly in financial services, customer engagement, retail, healthcare and the pharmaceutical industries. What, exactly, is cognitive computing and what technologies fall under this still-evolving field? How does it differ from Internet of Things and big data? From artificial intelligence and machine learning? Sue Feldman and Hadley Reynolds will use a series of vignettes to differentiate cognitive computing technologies and methods from more familiar technologies. They'll describe the emerging cognitive computing infrastructure, and talk about both the promise of cognitive computing and the technical and non-technical challenges that the field faces.




About Susan Feldman and Hadley Reynolds
Sue Feldman and Hadley Reynolds are co-founders and managing directors of the Cognitive Computing Consortium, an independent organization of vendors, researchers and practitioners dedicated to defining, exploring and explaining cognitive computing, its potential and its challenges. They each bring decades of experience in the technology industry to their research. See cognitivecomputingconsortium.com for additional information.

Introduction to Machine Learning (ML)

Presented by Pragyansmita Nayak, Ph.D.

This session will explain the what, the why and the how of Machine Learning (ML), one of the most vibrant and fast-growing fields in technology today. It will describe the technical and business reasons behind the importance of ML in industry and research. The talk will show how ML relates to the fields of Artificial Intelligence (AI) and Computational Statistics, and describe three main categories of learning algorithms – supervised, unsupervised and reinforcement learning. Some learning algorithms such as regression analysis and decision tree building are examined in more detail. The presentation will conclude with some commonly used open source software that can be used to start your ML journey.




About Pragyansmita Nayak, Ph.D.
Dr. Pragyansmita Nayak is a Technical and Data Architect in the Momentum Product Development Group at CGI Federal Inc. She earned her Ph.D. in Computational Sciences and Informatics (under the esteemed guidance of social influencer Dr. Kirk Borne at GMU, Fairfax, VA) where her thesis focused on applications of Machine Learning techniques. She is an avid meetup and hackathon participant and she recently won the AngelHack DC HPE Haven OnDemand (HOD) challenge.
Why Should You Register?
The Smart Data Online Conference will bring together the insights and training that are helpful in navigating new technologies shared across data management topics such as machine learning, cognitive computing, and artificial intelligence to name a few. It is in this event that we can connect you, the attendee, with the speakers who are working successfully with these new technologies in their daily positions.

Here are few reasons you should register:
Registration is free
Six, 40-minute webinars

Learn from the best in the industry
Experience-based learning

Access to all recorded sessions, slides and materials presented
Live Q & A following each webinar session